Knowing that the future is uncertain, people invest in an insurance policy. Among individuals and businesses, some of the most preferred insurance types are life insurance and health insurance.
But, one insurance product getting a lot of inquiries in the recent past is short-term disability insurance. In this also, a specific question asked the most is – What Illness Qualifies For Short-Term Disability?
This article contains the answer to this question. In addition to this, there is a lot of useful information about short-term disability insurance. Let's begin: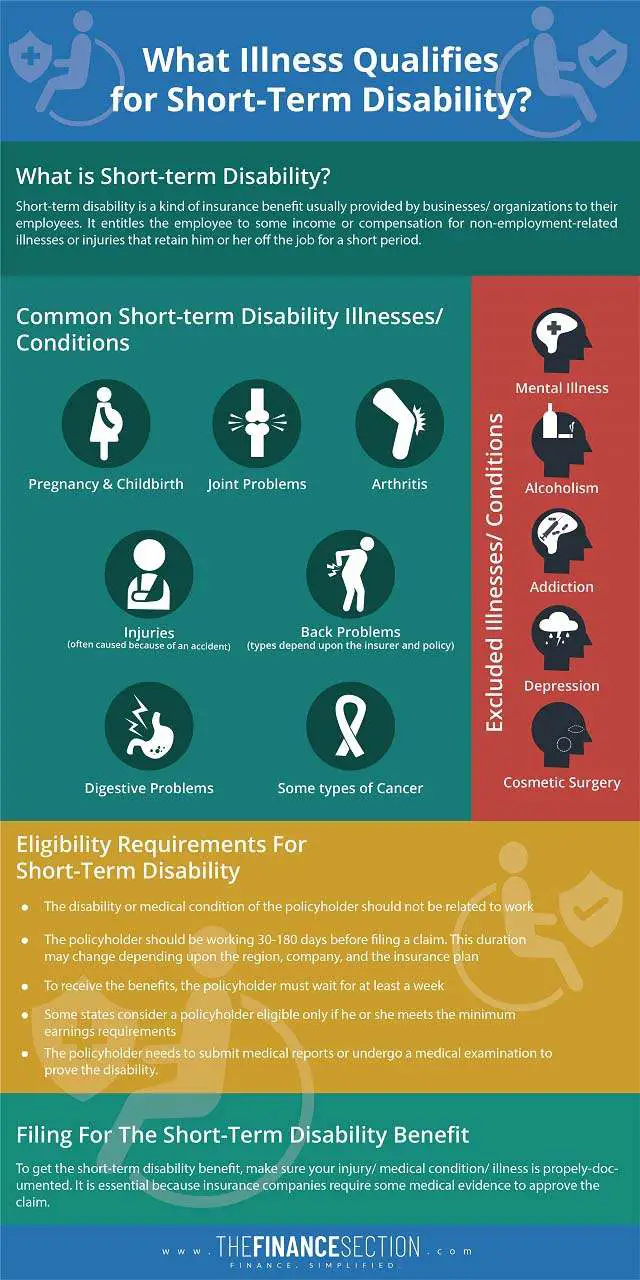 Use this graphic for free, just source us with this link:
Source Link: https://thefinancesection.com/what-illness-qualifies-for-short-term-disability/
What is Short-term Disability?
Short-term disability is a kind of insurance benefit usually provided by businesses/ organizations to their employees. It entitles the employee to some income or compensation for non-employment-related illnesses or injuries that retain him or her off the job for a short period.
Because of increased awareness in the past two decades, the number of employees getting short-term disability insurance has increased in both private as well as government sectors.
Under short-term disability insurance benefits, employees usually get 40-60% of their usual salary. While learning about short-term disability for the first time, some people mix the elements of short-term disability with injuries/ disabilities not falling in this category.
Well, understanding the difference is crucial because some misunderstood features might belong to long-term disabilities.
Defining Disability
In the world of short-term disability insurance, there is no standard definition of disability. Which illnesses or medical conditions should fall in the category of disabilities depends on the insurance policy or the insurer. It is, in general, any illness or injury that keeps an employee away from his or her job.
It can be anything such as childbirth, critical surgery, severe injury because of an accident, or illness requiring frequent treatment. Experts say the best is to go through your policy documents because a precise definition of disability might be present in them.
Short-term Disability Illnesses/ Conditions
Each insurance company categorizes certain illnesses or medical conditions as short-term disabilities. If you read and understand your policy terms closely, you'll find the exact ones.
However, some of the common illnesses or medical conditions cited while making short-term disability claims are:
Pregnancy and Childbirth
Joint Problems
Arthritis
Injuries (often caused because of an accident)
Back Problems (types depend upon the insurer and policy)
Digestive Problems
Some types of Cancer
And Others
Excluded Illnesses/ Conditions
There are also certain illnesses and medical conditions insurers don't consider as disabilities. Some common ones are:
Mental Illness
Alcoholism
Addiction
Depression
Cosmetic Surgery
Again, the coverage depends on the insurance plan or the insurer. Some companies may put mental illness as a short-term disability in their offerings. For precise information, go through your policy documents.
Top Reasons For Short-Term Disability Claims
Insurance companies receive thousands of short-term disability claims every year and pay billions of dollars to settle them. Some of the top reasons for short-term disability claims are:
• Pregnancy
When it comes to reasons for short-term disability claims, pregnancy tops the list. When new moms can't go to work because of childbirth, it supports them.
Many working women do not have short-term disability coverage. It exposes them to monetary risks when they are away from the office taking care of their newborn.
• Joint Disorders
It is another reason for which people file a short-term disability claim. In the United States, obesity is the most common cause of joint disorders.
Many studies reveal that obesity exacerbates problems like joint disorders, joint pain, back injuries, arthritis, and others. It also means obesity often transforms short-term disability into long-term disability.
• Injuries
Around 90 percent of the injuries occur out of work. The compensation received by employees might not be enough for their financial needs.
When employees can't attend the office because of injuries, short-term disability insurance gives a part of their income and keeps them away from financial stress.
Note that most insurers do not include back injuries in the list of short-term disabilities.
• Digestive Problems
Digestive problems include issues with the liver, kidney, digestive tract, and esophagus. These problems are categorized as short-term disabilities because they don't take much time to resolve.
• Some Types of Cancers
You might have heard that cancer is one of the main reasons for long-term disability claims. Well, some types of cancers lead to short-term disability.
The first one in them is breast cancer, followed by genitourinary organ cancer and digestive system cancer. In cancer, the time of detection is critical.
Eligibility Requirements For Short-Term Disability
 Yes, you need to meet some requirements to be eligible for short-term disability. These requirements may also vary from one state, insurer, or insurance plan to another. A policyholder can claim for short-term disability if:
The disability or medical condition of the policyholder should not be related to work.
The policyholder should be working 30-180 days before filing a claim. This duration may change depending upon the region, company, and the insurance plan.
To receive the benefits, the policyholder must wait for at least a week. The policyholder, mostly, receives them after seven days of being disabled.
Some states consider a policyholder eligible only if he or she meets the minimum earnings requirements.
The policyholder needs to submit medical reports or undergo a medical examination to prove the disability.
Filing For The Short-Term Disability Benefit
To get the short-term disability benefit, make sure your injury/ medical condition/ illness is properly-documented. It is essential because insurance companies require some medical evidence to approve the claim.
The first thing you should do is consult with a reliable doctor and discuss your condition. Let him know about the things you are going through. Based on your symptoms and state, your doctor will prepare a report. When you file for a claim for the short-term disability benefit, this report will be evaluated by the insurer.
The next you should do is approach your HR division and start with the claim filing procedure. If there is no HR department in your firm, get in touch with your superior to understand what you should do to file the claim. This way, you'll get the proper guidance for filing a claim.
Paperwork Involved
Again, the exact amount of paperwork involved depends upon the insurance company or your short-term disability plan. However, all insurance companies may ask you for the following documents:
A simple claim form with some information about you and your disability condition.
Informative details regarding your occupation. It includes, but is not limited to, the employer, salary, job duties, and other things.
Validation proof from a doctor that your disability will keep you away from work.
If you face difficulty with claim-related documents, you can seek help from authorized personals or the HR department of your company. In big organizations and medical facilities, there is a dedicated team to help people with the claim form and documents.
Remember that before filing the claim, you need to fulfill the eligibility requirements for availing short-term disability benefits.
Frequently Asked Questions
Do you still have questions about short-term disability? Below are answers to some of the most frequently asked questions about short-term disability.
1. Short-term disability benefits are taxable. Is it true?
It depends upon the short-term disability plan, but it is often taxable. When short-term disability insurance is sponsored by the employer, its benefits are taxable. It is because funding of these plans happens on a pretax basis.
If some employee buys a short-term disability insurance plan separately, its premium is paid from the taxable income. So, the benefits received are not taxable.
2. How long does short-term disability insurance cover an individual?
The length usually depends upon the insurer and insurance policy. Broadly, the coverage employees receive under short-term disability is 9-52 weeks.
3. Will my job remains protected if I am on the short-term disability leave?
There is no guarantee that your job will remain protected, or you'll join in the same position after the short-term disability leave. Companies can legally fire you during the leave period or demote you after your return.
However, acts like the ADA (Americans with Disability Act) in America protects those who meet ADA's criteria. This law makes it challenging for companies that have at least 15 employees or workers.
Terminating an employee because of disability should be the last option. The organization should be 100% sure that the employee won't be able to fulfill his/ her responsibilities because of disability.
4. From when short-term benefits start?
After filing the claim, an employee can get benefits within 14 days (maximum). To know about the exact duration, you must refer to the terms and conditions in your policy documents.
5. My short-term disability leaves are ending soon, but I am still not in a condition to get back to work. What should I do?
Some illnesses or medical conditions take more time. The individual may get discharged from the hospital, but he or she may not sit for eight hours on a desk every day. It may take 4-6 more months to recover completely.
If you are in such a situation and its time to go back to the office, a long-term disability insurance policy can help you (if you have one). If you don't have, you are out of luck. In this situation, the best is to get in touch with your insurer or the HR department.
You should note that the eligibility conditions for long-term disability insurance are different from those of short-term disability insurance. Also, some insurers might ask you to provide new claim papers and proof documents before issuing the long-term disability benefit.
6. Can I buy a short-term disability insurance policy on my own?
Yes, you can get a short-term disability insurance policy on your own. If your employer or company is offering, there is no need to buy it separately.
7. Who pays the premium for my short-term disability insurance?
When it comes to paying the premium of short-term disability insurance, different employers do it in different ways. Some employers pay the complete cost of coverage, some put it on employees, and some share it with their employees.
The data of March 2018 shows that most private-sector employers in the U.S. paid the complete short-term disability insurance premium for 85% of workers. In the same period, state and local government employers paid the premium for 87% of workers.
8. If I claim for the short-term disability benefit, how much of my salary the insurance company will pay?
It is another policy's terms and conditions related question. The short-term disability benefit you are going to get depends upon your insurance plan.
There are a few plans that provide employees with a full salary but most compensate employees with only 50-60% of their weekly earnings.
Some insurance plans consider the longevity of employees in a company, and thus, pay different short-term disability benefits. Let's understand this with an example:
An employee is working in a company for the past 12 years. Recently, he is on a short-term disability period of 26 weeks. The insurance company will provide him the full salary for the first three months and 50% for the remaining three months.
9. I recently filed a claim for short-term disability benefits. If my employer terminates me, what will happen now?
The termination from work does not impact the payable claim. If your employer terminates you, you'll still receive benefits for that duration.
10. The insurer determines claim benefits based on my earnings, which I think are incorrect. What to do now?
All the information insurance companies have about an employee's earnings are provided by the employer. If you feel that your low benefits are because your earnings information with the insurer is incorrect, check with your employer. Make sure your earnings data reaching the insurance company is correct.
Final Words
Short-term disability is an insurance benefit for employees. Employees usually include this kind of insurance in the package offered to employees. It is one of the few complex insurance products.
When people try to learn about and understand the illnesses qualifying for short-term disability, several questions arise in their minds. To get all the queries resolved, an individual should get in touch with his/ her company's HR department or a reliable insurance advisor.