The financial life of people in early adulthood is not identical. Most young adults don't even think about things like financial goals and financial security.
It is not right because they are young today but won't remain the same all through their life. Tomorrow, most of them will start a family and have kids. Their expenses will increase, and providing financial security to their loved ones will become one of their biggest goals.
And, the best way to secure your, as well as your loved one's future, is to get a life insurance policy. However, there are many more reasons for young adults to insure themselves.
This article is going to help you understand why young adults should get a life insurance policy and which one will be the right choice for them.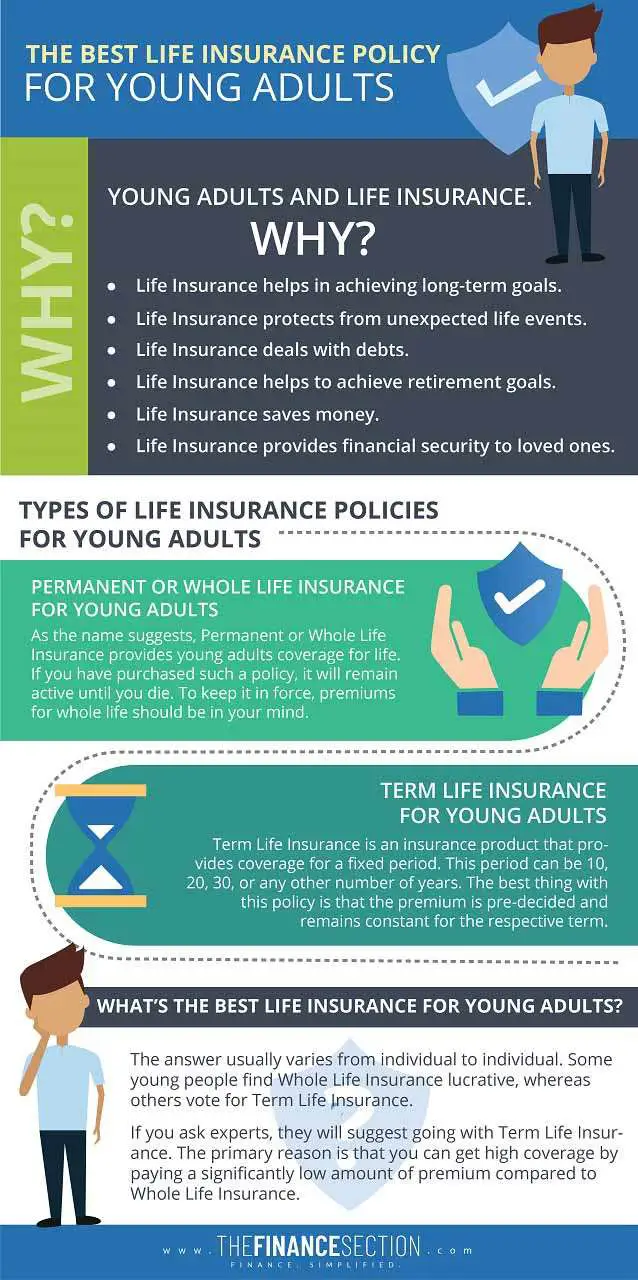 Use this graphic for free, just source us with this link:
Source Link: https://thefinancesection.com/best-life-insurance-policy-for-young-adults/
Young Adults and Life Insurance. Why?
Young adults think there is no need for any life insurance because they play sports, go to the gym, eat a healthy diet, and do not have any disease.
If there are a few reasons for not getting life insurance, there can be numerous explanations to get it. Here are some primary ones:
Life Insurance helps in achieving long-term goals. People in their 20s or early 30s certainly think about achieving this or that by the age of 40 or 50 years. There are Life insurance policies that also act as an investment and provide you the money when required.
Life Insurance protects from unexpected life events. In life, nobody knows what can happen in the next moment. Some terminal life illness, chronic disease, disability due to an accident, or death might catch anyone at any time in life. A life insurance policy gives financial protection against such unexpected life events.
Life Insurance deals with debts. A debt that concerns most young people is the education loan. Then comes other forms of debts such as personal loans, home loans, auto loans, credit card debts, and others. If you have the right insurance policy, it will take care of your debts.
Life Insurance helps to achieve retirement goals. Most young adults do not want to talk about retirement because, for them, it's too early to think about such things. But, everyone grows old and requires money at that age. The right life insurance policy provides financial support to people when they become old.
Life Insurance saves money. Getting a life insurance policy at an early age helps people save a lot of money. It is because premiums grow with your age. You need to pay less when you are young, but life insurance premiums become expensive as you grow old. Young people can utilize the money, saved by paying less premium, somewhere else.
Life Insurance provides financial security to loved ones. Whether young or old, there are always people around who care for you. If an individual passes away someday, his or her death will put an unexpected financial burden (in the form of funeral costs or debts) on them. At that time, payment from the life insurance company can provide financial support to loved ones.
Types of Life Insurance Policies for Young Adults
By now, you might have understood why a life insurance policy is essential at a younger age. Experts say that the best life insurance policy for young adults is the one that satisfies their life insurance purposes.
It can be Whole Life Insurance or Term Life Insurance. Now let's understand why these life insurance policies are best for young adults.
Permanent or Whole Life Insurance for Young Adults
As the name suggests, Permanent or Whole Life Insurance provides young adults coverage for life. If you have purchased such a policy, it will remain active until you die. To keep it in force, premiums for whole life should be in your mind.
Whole Life Insurance policies often face criticism because of their premiums. Keeping young adults in mind, some clarifications from experts are:
Whole Life Insurance is more than a simple life insurance product. The premium paid for such policy splits into two parts. One of them insures your life, and the other one gets invested.
The premiums of Whole Life Insurance policies are usually higher because they provide guaranteed coverage for life.
Many people don't like the higher premiums of Whole Life Insurance, but young adults can look at it differently. Young people do not earn the same amount of money all through their life. Their salary or income increases with time, and it can easily absorb the financial load created by higher premiums.
Another important element of Whole Life Insurance policies is the cash value. A person can use the cash value accrued over time as savings or a loan if he or she requires money anytime when they are alive.
Whole Life Insurance Benefits
Some benefits that might attract young adults are:
The premium amount of a Whole Life Insurance policy splits into two parts. Besides the insurance premium, another part adds to the cash value.
The premium remains constant throughout the coverage period. It can change if you modify your insurance plan.
When people start with Whole Life Insurance at an early age, its savings part can eventually pay the policy.
When the policyholder is alive, Whole Life Insurance provides opportunities to save tax.
Unless the policyholder modifies the insurance plan and pays regular premiums, he or she remains covered for the whole life without undergoing any additional medical exam.
Whole Life Insurance and Universal Life Insurance are both parts of Permanent Life Insurance. They both have almost the same structure and function similarly. So, don't get confused if you come across Universal Life Insurance while searching for Whole Life Insurance.
Term Life Insurance for Young Adults
Term Life Insurance is an insurance product that provides coverage for a fixed period. This period can be 10, 20, 30, or any other number of years. The best thing with this policy is that the premium is pre-decided and remains constant for the respective term.
Another good thing is that the premiums of Term Life Insurance are quite a smaller amount of what other life insurance products charge. If the policyholder dies anytime during the policy term, the insurance provider pays the death benefit as per the policy terms.
Term Life Insurance Benefits
Because of the following benefits, Term Life Insurance attracts young adults the most:
Whether single or married, it provides young people with a large amount of coverage at remarkably low premiums.
The structure of a Term Life Insurance policy is easy-to-understand, even to a person buying life insurance for the first time.
If policyholders want to opt-out of their Term Life Insurance policy, they can stop paying premiums. The insurance policy will end, and any risk coverage will also cease.
In these policies, not only the premium is tax-free but also the death benefit.
Out of all the life insurance products, premiums of Term Life Insurance are the lowest.
The best thing with Term Life Insurance is that it provides you an opportunity to grow your money. The premium amount of a Term Life Insurance policy is less in comparison to a Whole Life Insurance policy. You can calculate the differential amount of the premiums of these two policies and invest it in a financial instrument that provides higher returns.
Some of you might say that Whole Life Insurance also works like this. Well, you are partially correct. In Whole Life Insurance, your premium gets divided into two parts – towards life coverage and cash value. You have to select from a specific list of financial instruments (varies from company to company).
It is not the case with Term Life Insurance. The money remains in your hand, and you are free to invest it anywhere.
What's the Best Life Insurance for Young Adults?
The answer usually varies from individual to individual. Some young people find Whole Life Insurance lucrative, whereas others vote for Term Life Insurance.
If you ask experts, they will suggest going with Term Life Insurance. The primary reason is that you can get high coverage by paying a significantly low amount of premium compared to Whole Life Insurance.
Another reason is that it ensures more money in your hands which you can invest in a financial instrument of your choice. Moreover, young people are usually involved in a lot of things for which they require money. If you are not investing, you can utilize that money to deal with your expenses.
With Term Life Insurance, you can get life coverage as well as ample money in your pocket. Even if you are married and die unexpectedly during the policy term, you can remain worry-free that your family won't be affected financially.
Frequently Asked Questions
When it comes to life insurance, people always have tons of questions. Below are answers to some of the most frequently asked questions about life insurance.
1. What is covered by life insurance?
Life insurance covers almost all kinds of living expenses. For example, loans, mortgage, rent, credit card debts, funeral expenses, food, housing, transportation, college costs, retirement, and others.
2. What is guaranteed life insurance for young adults?
Guaranteed Life Insurance is not a product specifically for young adults. It is for people who want life insurance but are at a position where no options are left. You can say it is for people who:
Do not have enough budget to insure their life.
Are suffering from medical issues that make it difficult to get any other kind of life insurance.
Are satisfied with a small amount of life insurance coverage.
Most of these conditions do not apply to young people. As they have many options to choose from, guaranteed life insurance is not a product specifically for young people.
3. What is the right age to get life insurance?
There isn't any specific age to get life insurance. But the sooner you get, the better it is because the premiums increase with your age. If you are young (in the 20s and early 30s), you have to pay less premium as compared to people who are in their 40s or more.
4. How to choose the best life insurance company for young adults in the United States?
There are a lot of factors to look for while evaluating different companies and choosing the best from them. Some of them are:
The cost of premium matters the most. It should fit the pocket of prospective policyholders.
The financial stability rating of an insurer should be high. You can look for AM Best financial stability ratings, credit ratings, and others to be 100% sure that the insurance company will continue running smoothly.
Evaluate the insurance company based on past performance. Find out whether the insurer will settle claims without difficulty, or will it cause problems for policyholders and their heirs.
Evaluate the insurer's website, reviews by existing customers and third-parties, customer satisfaction surveys, and grievances with state regulators. All this helps in understanding the relationship between the insurance company and its customers.
Customer service also plays a crucial role. If an insurance company understands its customers, solve their queries, and help them with matters related to their life insurance policy, it'll be more trustworthy.
There can be many more factors to choose the best life insurance company. If you are new, the best is to consult with an insurance advisor. Tell him/ her your insurance needs and let them find you the best life insurance policy.
5. Can an individual shop for a life insurance policy online?
Most insurance companies are allowing people to buy a life insurance policy online. If any policy is not available online, they allow lead generation via online channels and continue offline.
Final Words
If you are young, there isn't any reason to skip life insurance. A life insurance policy will guard you and your family against unexpected financial problems. As young people have to pay less premium, they can get a good plan for less price.
The decision to buy a Whole Life Insurance or Term Life Insurance should be taken after evaluating your income, expenses, and life insurance plans/ policies. You can also consult an insurance advisor to get yourself the best life insurance.